IN THIS ISSUE
Built for Success
Topping out Methodist Celina Medical Center
Lab and pharmacy transformed at MRMC
New clinical space debuts in Midlothian
Medical Milestones
Innovative technique for digestive issue
Robotics-assisted prostate surgery at Charlton
Setting A Standard of Excellence
Stopping a STEMI mid-cardiac testing in Southlake
Staff in Mansfield awarded for high-quality care
Quality metrics in top quartile nationally are proof of progress at MHS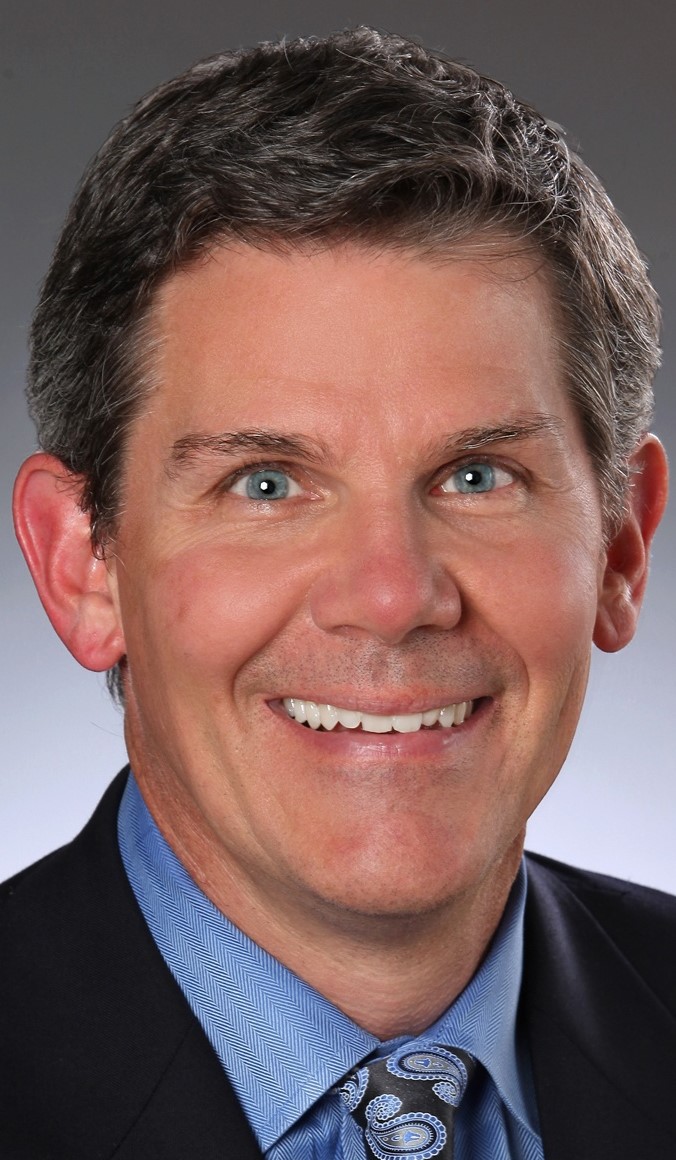 Martin L. Koonsman
, MD, FACS, CPE
We typically look ahead when charting progress at Methodist, whether that's north to
Celina
or closer to home at
Methodist Charlton
. But today I want to look back at the exceptional quality metrics made possible by clinical care teams across Methodist Health System in the past fiscal year.
Here are just a few of those highlights:
Sepsis mortality: 0.83 observed-to-expected ratio for the system as a whole, a 23% improvement from the previous fiscal year, with MHS performing better than the top quartile nationally
Overall mortality: 0.78 observed-to-expected ratio for the system as a whole, a 16% improvement from FY 2022
NDNQI metric - patient falls with injury (inpatient): 0.27 per 1,000 days, a 47% improvement systemwide from FY 2022
NHSN metric - Central Line Acquired Blood Stream Infections (CLABSI) Standardized Infection Rate (SIR): 0.768, a 35% improvement systemwide from FY 2022
NHSN metric - Catheter-Associated Urinary Tract Infection (CAUTI) Standardized Infection Rate (SIR): 0.703, a 7% improvement systemwide from FY 2022
Facts and figures alone can't express the progress we've made over the past year. Rather, it's in the successful outcomes and lives saved where your efforts to provide compassionate, quality healthcare truly shine. Year to date, that amounted to 427 LIVES SAVED above and beyond what was expected, 124 of them sepsis patients who went home to their families.
Thank you for all that you do.

Mayo Clinic collaborative coming to end
After nine years and a series of successful collaborations, MHS will end its membership in the Mayo Clinical Care Network (MCCN) at the close of 2023.
Among the key successes was a sepsis collaborative that helped make the quality metrics I just covered possible, and we intend to use a similar model to make strides in other challenging areas. We also created the
Bronze and Silver Fellowship programs with input from Mayo.
But with MCCN shifting its attention away from such collaboratives and toward its IT platform, MHS leaders have decided to end our membership.
Consulting hours and other benefits will remain available through the end of December. Thank you for your engagement with Mayo over the years.
Universal Skills training for Providers
We're asking our providers to join us on our RISE High Reliability journey with training tailored to your needs. To access the video, please click the button below and enter the password
MD-RISE
, or visit the
Physician Portal
. You must scan the QR code at the conclusion of the video to receive 1 CME credit for the training.
Care Commitment Message:
with the CLEAR universal skill
This Care Commitment message outlines the compassionate service provided by one of our residents while caring for a fatally ill patient in the ICU over the course of nine weeks. The resident utilized the universal skill, CLEAR, while interacting with the family and the patient.
From the start, the resident communicated clearly to the family about the patient's terminal prognosis while assuring them that all efforts would be directed toward helping the patient get well.
The resident remained available to the patient and family — taking time to connect, listen, explain, assure, and respond to their needs, questions, and concerns. The family stated that the resident always made sure to explain everything. If he did not have the answer, he would pull in a colleague to help clarify the situation.
The resident demonstrated the universal skill, CLEAR, by connecting with the patient and family; listening to understand their needs; explaining to help them understand the prognosis, care, and treatments; assuring the patient and family to help lower their anxiety; and instilling them with confidence in Methodist and the treatment team. The resident continually responded to their needs, set expectations, and clarified next steps, always ensuring that they understood. Using CLEAR helps us to take care of our patients, take care of each other, and take care of Methodist.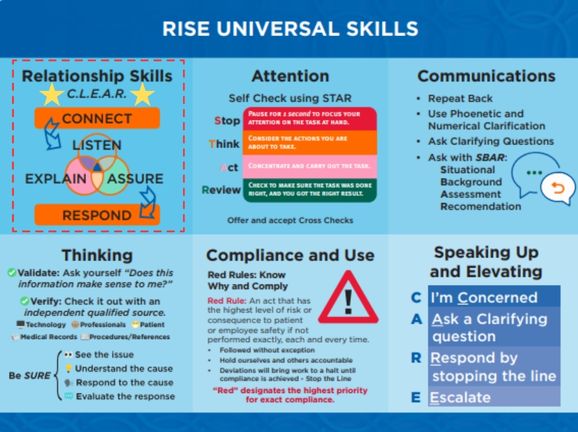 As healthcare workers we strive to make a personal connection with everyone around us. Making a compassionate connection using CLEAR lets other people know that you recognize them as a person.
Make a CONNECTION by greeting others with a smile and introduction. Create space and time for them. Explain your role in a way that makes the person you are addressing feel psychologically safe.
Position yourself so you can actively LISTEN and understand their needs. For example, if they are sitting or lying down, you should sit down next to them, preferably 2-5 feet away. Make eye contact throughout the conversation as a signal of your respect and attention. Remove distractions and ask clarifying questions.
Get to know the person you are talking to by EXPLAINING or listening to them explain. Use communication tools and observe for visual cues of understanding and agreement. For example, "What do you enjoy doing when you are not in the hospital?"
Maintain their psychological safety by ASSURING them, instilling confidence, and validating their feelings and needs.
Conclude the discussion by RESPONDING to their needs. Clarify next steps. Set expectations. Check for understanding. Act and follow up.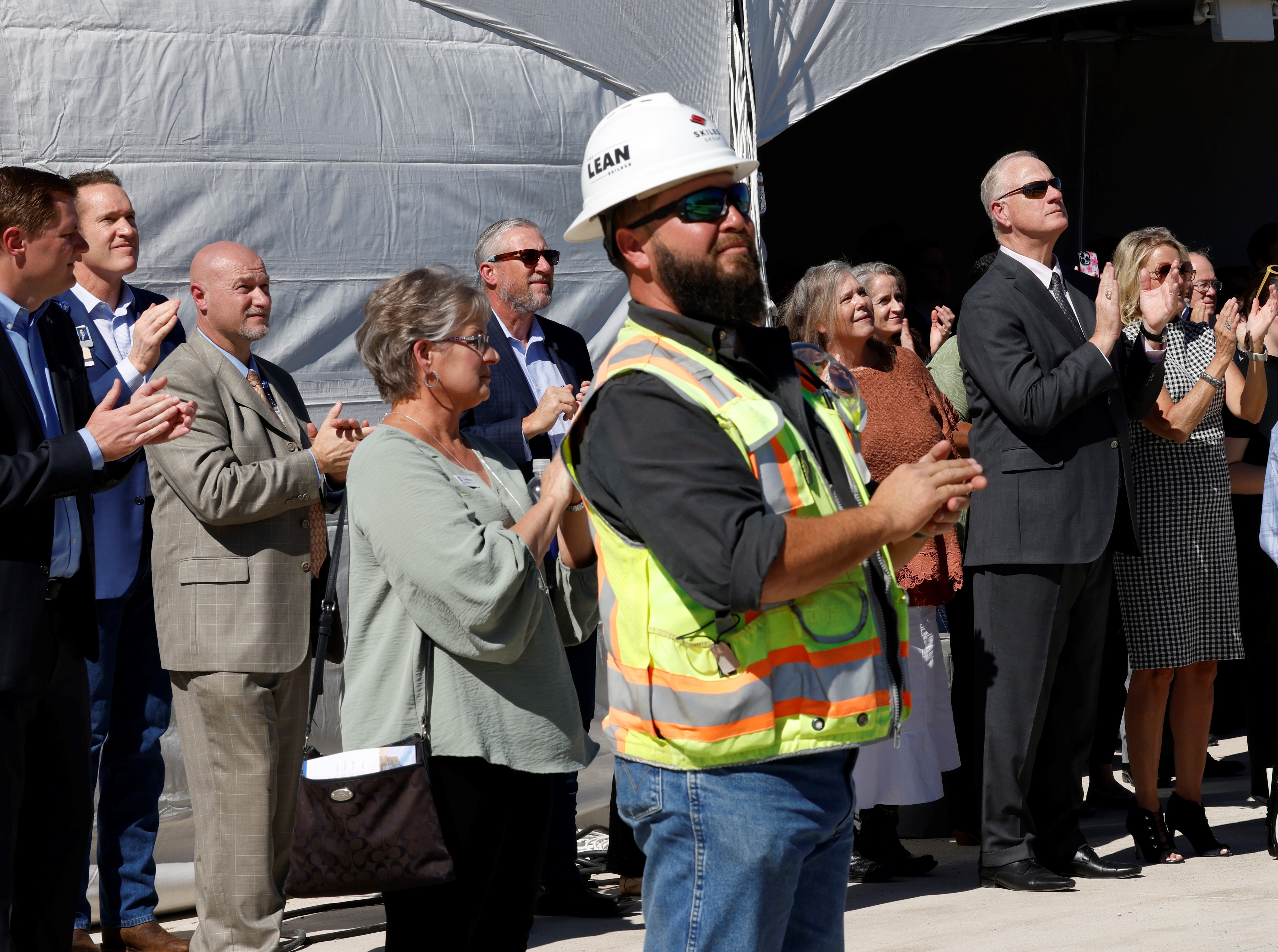 Methodist Celina reaches new heights with top beam in place
The steel silhouette of this Collin County boomtown's first full-service hospital took shape on Friday, October 20, when the highest beam of Methodist Celina Medical Center was hoisted into place.
With a drone camera capturing every moment, leaders from the city and local business community joined Methodist Health System executives to celebrate the "topping out," a key milestone for the 200,000-square-foot hospital that will open its doors in 2025.
"It will be our pleasure to serve this quickly growing community with a broad range of healthcare services," said Jim Scoggin, Chief Executive Officer of Methodist Health System. "When we open in 2025, we will offer cardiovascular and cancer care, as well as women's services, orthopedics, and robotic surgery."
Construction on the $237 million project has endured the extremes of North Texas weather, from a winter storm that disrupted the January groundbreaking to extreme heat that forced crews to work odd hours this summer.
"The amount of work that's been done over the last six months is remarkable," said Pam Stoyanoff, MBA, CPA, FACHE, President and Chief Operating Officer of Methodist. "We are ahead of schedule, thanks to construction crews who worked overnight all summer pouring concrete. Talk about hard work and dedication!"
Once complete, Methodist Celina will boast:
30 medical-surgical beds

10 post-partum beds

Eight intensive care unit beds

12 emergency department beds

Three operating rooms, including a daVinci surgical robot, and shell space for an additional operating room

A cardiac catheterization lab and two procedure rooms

Four labor and delivery rooms, two C-section rooms, and 10 post-partum suites
Lab and pharmacy get new home, twice the size of their former areas
After 13 months of construction, the lab and pharmacy at Methodist Richardson have relocated to an upgraded space.
Both units are now on the third floor above the Emergency Department. The floor spans 20,000 square feet, and the lab and pharmacy each occupy about 5,000 square feet — nearly double the space they had previously.
The pharmacy received upgrades of three new hoods to process chemotherapy drugs and IV medications. Staff (top photo) also have two new Omnicell automated drug-dispensing carousels.
The lab also received updated equipment. It now has a new grossing station for frozen pathology and a new specimen cabinet. The revamped space was part of a $46 million expansion that will also almost double the number of emergency room beds.
The entire overhaul is expected to be complete next summer.
Expanding to help more patients in Ellis County
Methodist Medical Group and Methodist Midlothian has completed a $2 million expansion project to open a new specialty clinic in the professional office building next to the hospital.
The clinic, which opened in August, is the new home of physicians on the hospital's medical staff who offer specialized care in cardiology, orthopedics, neurosurgery, and more.
The second-floor space includes patient rooms, a reception area, and dedicated offices. It increased the number of patients that clinicians are capable of treating and allows local residents to stay in the area for more of their healthcare needs.
"We're extremely excited about the continued expansion of services being offered within our professional office building and to see the growth of specialty providers in the region," Methodist Midlothian President
Jary Ganske
says. "It's amazing to see the number of physicians that are coming to the office space to care for the community. This allows our patients to receive care closer to home."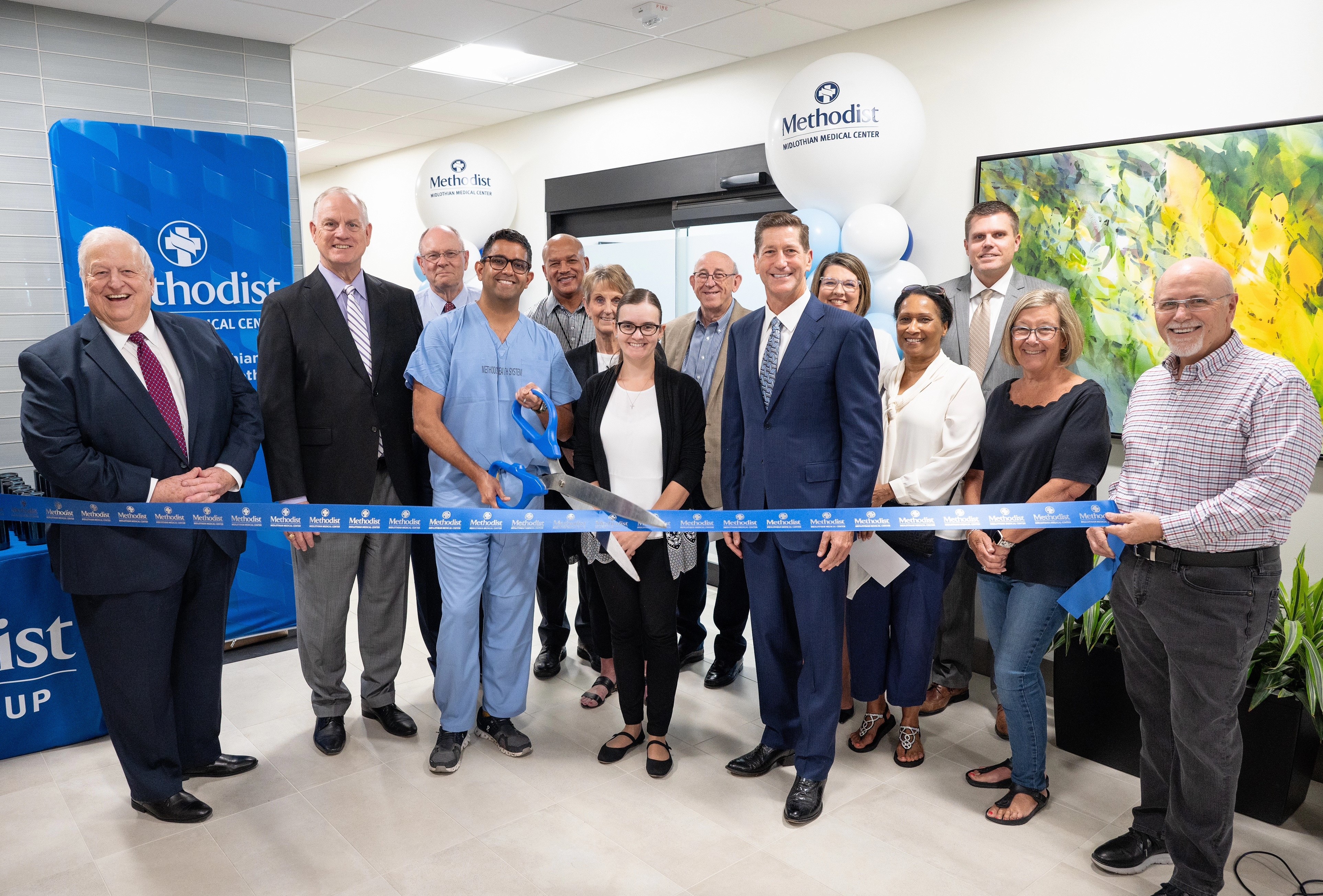 A ribbon-cutting ceremony was held for the new space in the professional office building at Methodist Midlothian.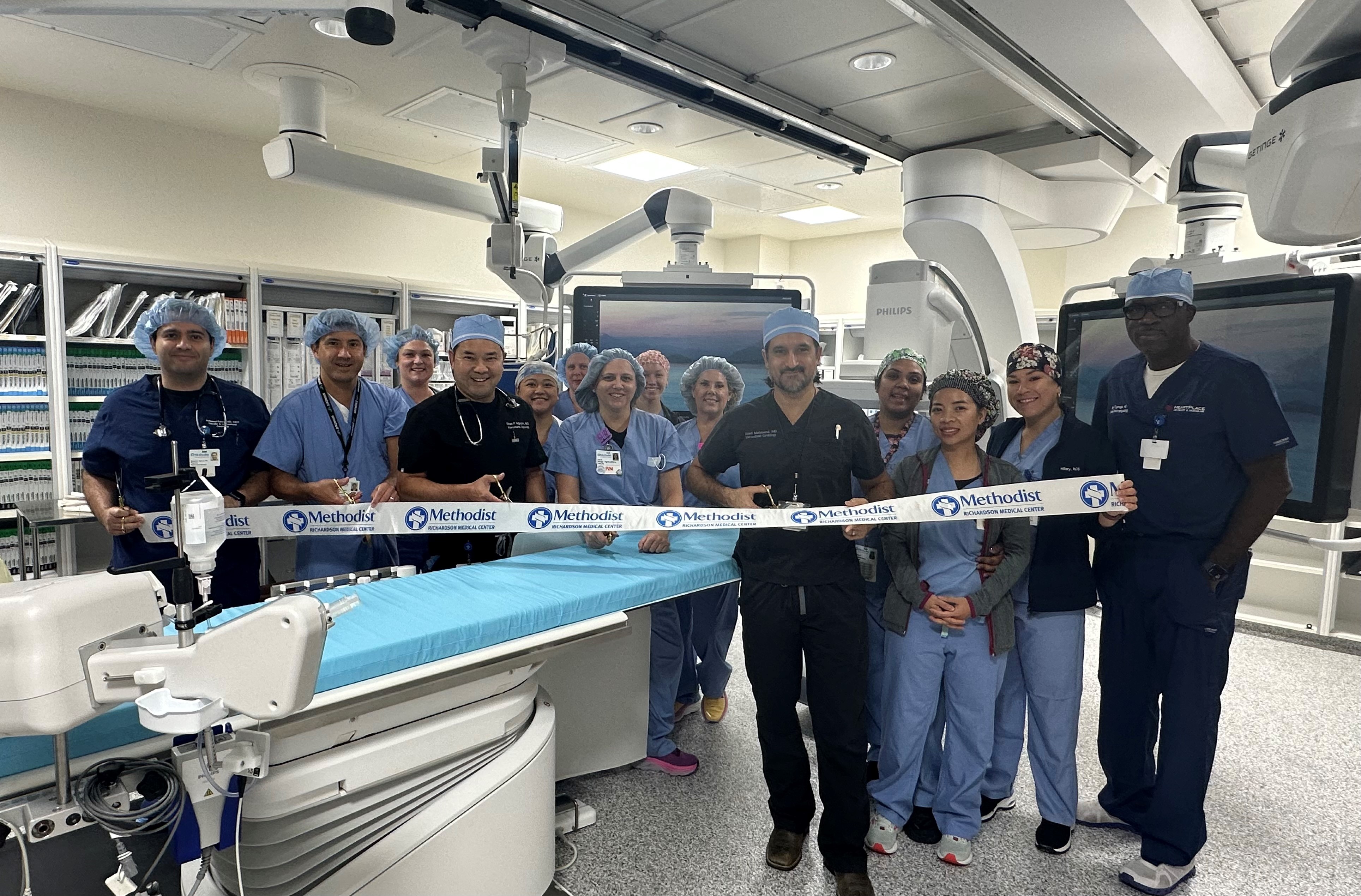 The revamped cardiac cath lab No. 2 outfitted with upgraded equipment will better help the cardiology team perform complex procedures.
Methodist Richardson's newly remodeled cardiac catheterization lab No. 2 is up and running.
The new and improved lab is part of Methodist Richardson's capital investment campaign to enhance cutting-edge technology that advances the hospital's goal to offer high-quality cardiovascular services to the community. The hospital currently has three cardiac cath labs total.
"Our team has decades of experience performing these complex procedures," says Nhan Nguyen, MD, Medical Director of Cardiology. "Now we're able to do these procedures in a brand-new environment with the latest tools and techniques, which will improve patient care."
The $3.5 million renovation project replaced and updated all of the 13 year-old equipment that was moved from the Campbell Road location after the Bush/Renner campus opened in 2014.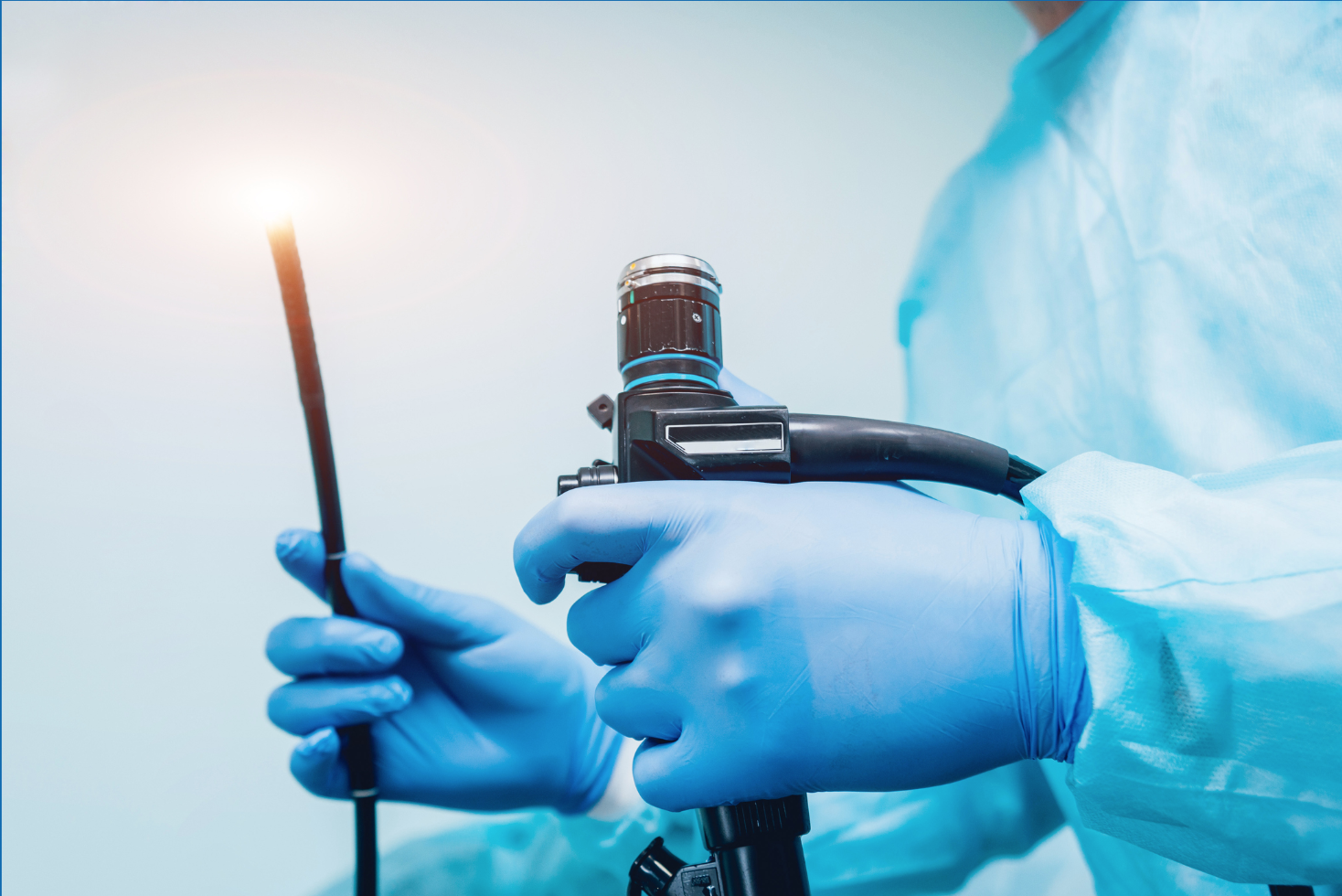 Innovative endoscopy procedure helps combat digestive problems
The GI team at Methodist Dallas found an innovative way to help a malnourished patient who had previously underwent bariatric surgery at another hospital.
Prashant Kedia, MD, Medical Director of Interventional Endoscopy at Methodist Dallas, performed a modified version of a peroral endoscopic myotomy (POEM) in the stomach for the novel indication to treat a stenosis of the stomach caused by a bariatric surgery. Previously, a procedure of this type, applied in this setting, has only ever been reported 13 times in scientific literature, and this is the first time it's been reported in North Texas.
POEM is a technique that is typically used to treat patients with achalasia, a rare swallowing disorder of the esophagus. Dr. Kedia consulted with other physicians who have performed this specific variation of a gastric POEM (G-POEM), which required cutting into the stomach muscle to relieve pressure in the sleeve.
"Our team felt confident in taking on the challenge of using skills we have mastered and applying them to a different disorder and part of the body," says Dr. Kedia, who reports that the patient had a one-day hospital stay and had no further reflux issues six months post-endoscopy.
The cumulative knowledge and experience of Dr. Kedia and his team have helped restore their patients' quality of life and prevented them from needing gastric sleeve revision surgeries for which they are eternally grateful.
Surgical team removes prostate with robot, a first for the hospital
A patient with prostate cancer had the gland removed in the first robotic-assisted surgery of its kind at Methodist Charlton.
The surgery was performed by urologist
Srinath Kotamarti
, MD, who recently joined the medical staff at the hospital. The patient had been diagnosed with high-risk localized prostate cancer.
While robotics has been in Methodist Charlton's toolbox for years, this is the first time a surgical robot assisted with a prostatectomy at the hospital. And by all accounts, the October 10 procedure to remove the patient's prostate gland and some surrounding tissue was a success, Dr. Kotamarti says.
"His family has been incredibly appreciative of the entire team's efforts to get him treated and to this point," Dr. Kotamarti says.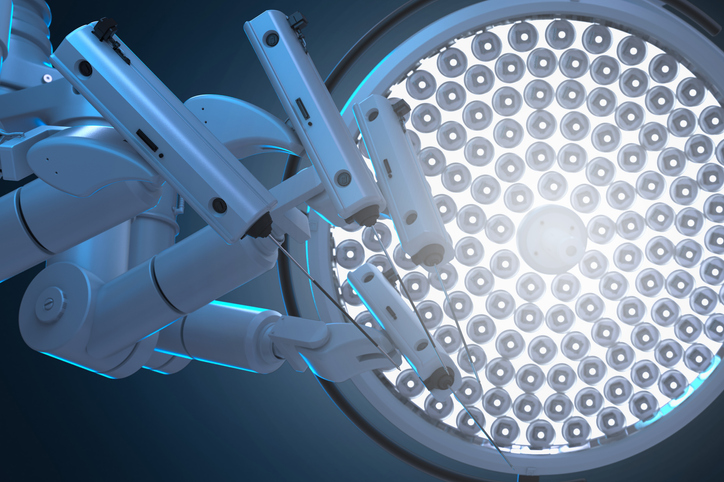 10 finalists for Excellence in Healthcare Awards a record for Methodist
Methodist has a strong chance of winning big at this winter's D CEO Excellence in Healthcare Awards, with 10 award finalists in eight different categories. This is the largest number of finalists we have ever had in this awards program!
Not only does Methodist stand to win Outstanding Health System, but President and Chief Operating Officer Pam Stoyanoff, MBA, CPA, FACHE, is a finalist for Outstanding Hospital Executive.
D CEO pre-emptively awarded
Danny Holland
, DO, orthopedic trauma surgeon on the medical staff at Methodist Dallas, with the Healthcare Hero Award for his work in a war zone in Ukraine — which you can read about on
Shine Online
. Dr. Holland was also named as a finalist for Outstanding Hospital Practitioner.
Methodist Mansfield earned a nomination for achievement in community outreach, the MHS Clinical Research Institute for medical research, and Methodist Celina for outstanding medical real estate project.
Other nominees include Marsha Huey, Betsy Johnson, and Jacob Locke, who volunteer for Methodist Mansfield, Methodist Charlton, and Methodist Dallas, respectively. Our wellness program is also an awards finalist. To see the full list of nominees, click
here
or the button to the right.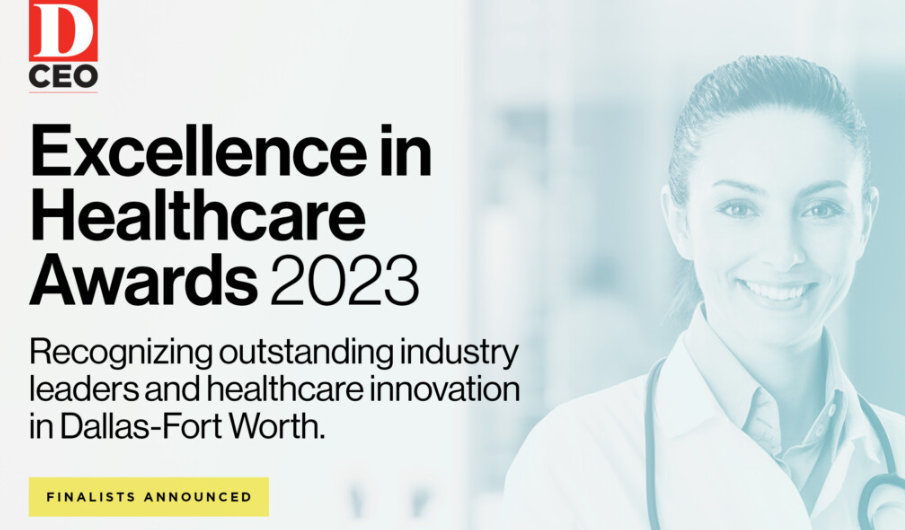 Cardiologists catch STEMI mid-exam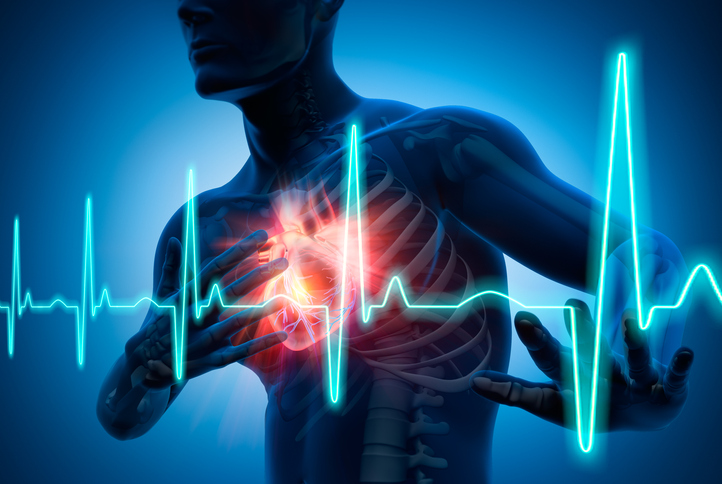 A heart patient was in just the right place when they suffered a heart attack during an outpatient stress test this month.
The ST-elevation myocardial infarction (STEMI) was detected during the initial phase of testing at Methodist Southlake, so further tests were canceled.
The patient was rushed to the newly expanded emergency department for treatment by the interventional cardiologist.
Another electrocardiogram (EKG) confirmed the heart attack, and the patient was taken to the cath lab for an angiogram. The patient was then treated with a thrombectomy and angioplasty, before a stent was placed.
From EKG to balloon, less than 70 minutes elapsed, beating the best practice goal by more than 20 minutes.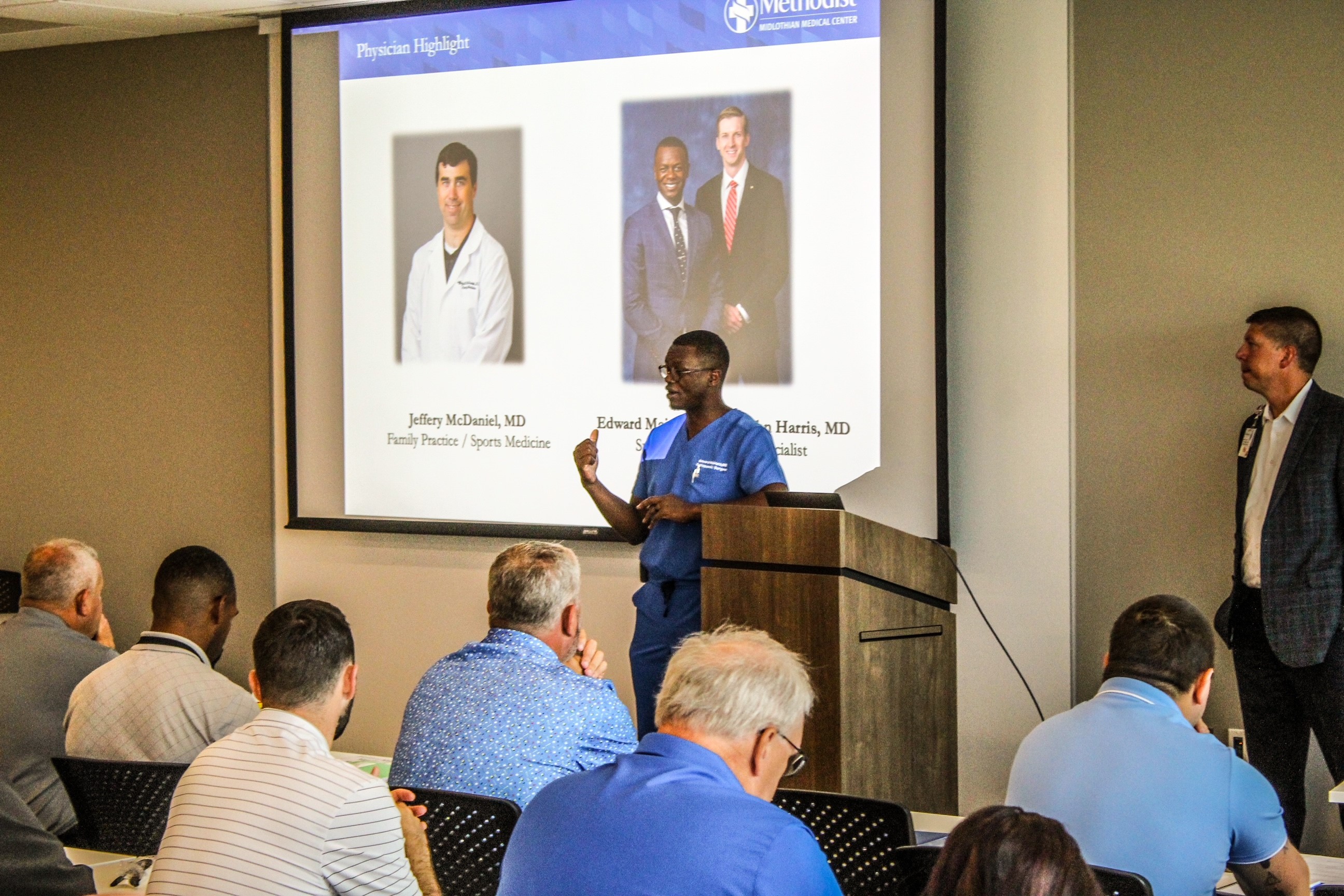 Edward Mairura
, MD, FAAOS, orthopedic surgeon on the medical staff at Methodist Midlothian, speaks to Midlothian ISD staff about hospital service lines.
Physicians provide care for local athletes
Methodist Midlothian was proud to help kick off the 2023-24 school year for Midlothian ISD's athletic program by providing its employees breakfast for their staff's professional development day.
VP of Nursing and CNO
Jeremy Taylor
, MHA, BSN, RN, and
Edward Mairura
, MD, FAAOS, orthopedic surgeon on the hospital's medical staff, gave a presentation about Methodist Midlothian's service lines and the continued effort to take care of students.
"It was great to get a chance to meet the athletic training staff as we have a mutual goal of keeping all of our athletes healthy and safe during their sports season," Dr. Mairura says. "Our medical team plays a key role in covering athletic events and providing care for athletes in the community by managing injuries with the best standard of care. We are looking forward to another successful season."
Doctors on medical staff talk to seniors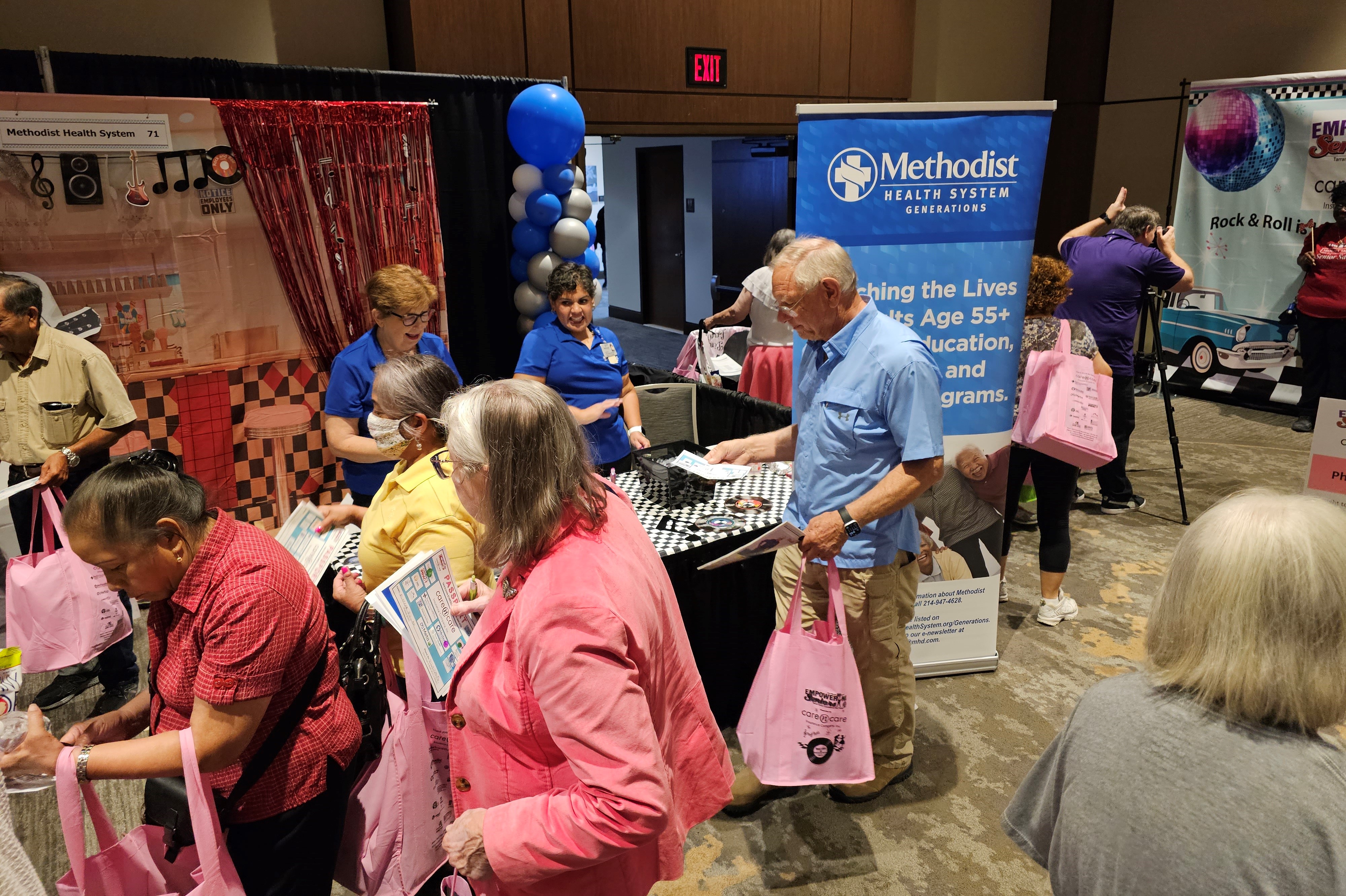 Methodist Southlake and Methodist Generations participated in the Empowering Seniors' Health and Wellness Expo this fall.
Created with older adults and their caregivers in mind, the expo at the Hurst Conference Center focused on wellness seminars and other outreach initiatives.
Several physicians on the medical staff of Methodist Southlake participated at the event this year. Mihaela Kruger, MD, presented at a "Heart Health and Aging" workshop, and Anas Alomar, MD; Lisa Maehara, DO; and Mariah Burnell, DO, served on a panel and answered various questions from conference attendees.
Stroke and heart teams demonstrate expertise in care
For the sixth year in a row, the American Heart Association (AHA) awarded Methodist Dallas with its Get With The Guidelines®-Stroke Gold Plus Award.
The quality achievement award recognizes hospitals that are committed to ensuring stroke patients receive the most appropriate treatment. Methodist Dallas also received the AHA's Target: Stroke Elite Honor Roll and Target: Type 2 Diabetes Honor Roll.
The good news doesn't stop there! A cardiology conference drew a crowd this year.
Nasser Khan
, MD, Medical Director of Methodist Dallas' Structural Heart Program, joined several other physicians who presented on various cardiovascular topics, including heart failure, arrhythmias, cardiogenic shock, and structural heart disease. Conference attendees also benefited from nursing and EMS continuing education sessions.
Nasser Khan
, MD, Medical Director of Methodist Dallas' Structural Heart Program, was one of several physicians who presented at a recent cardiology conference.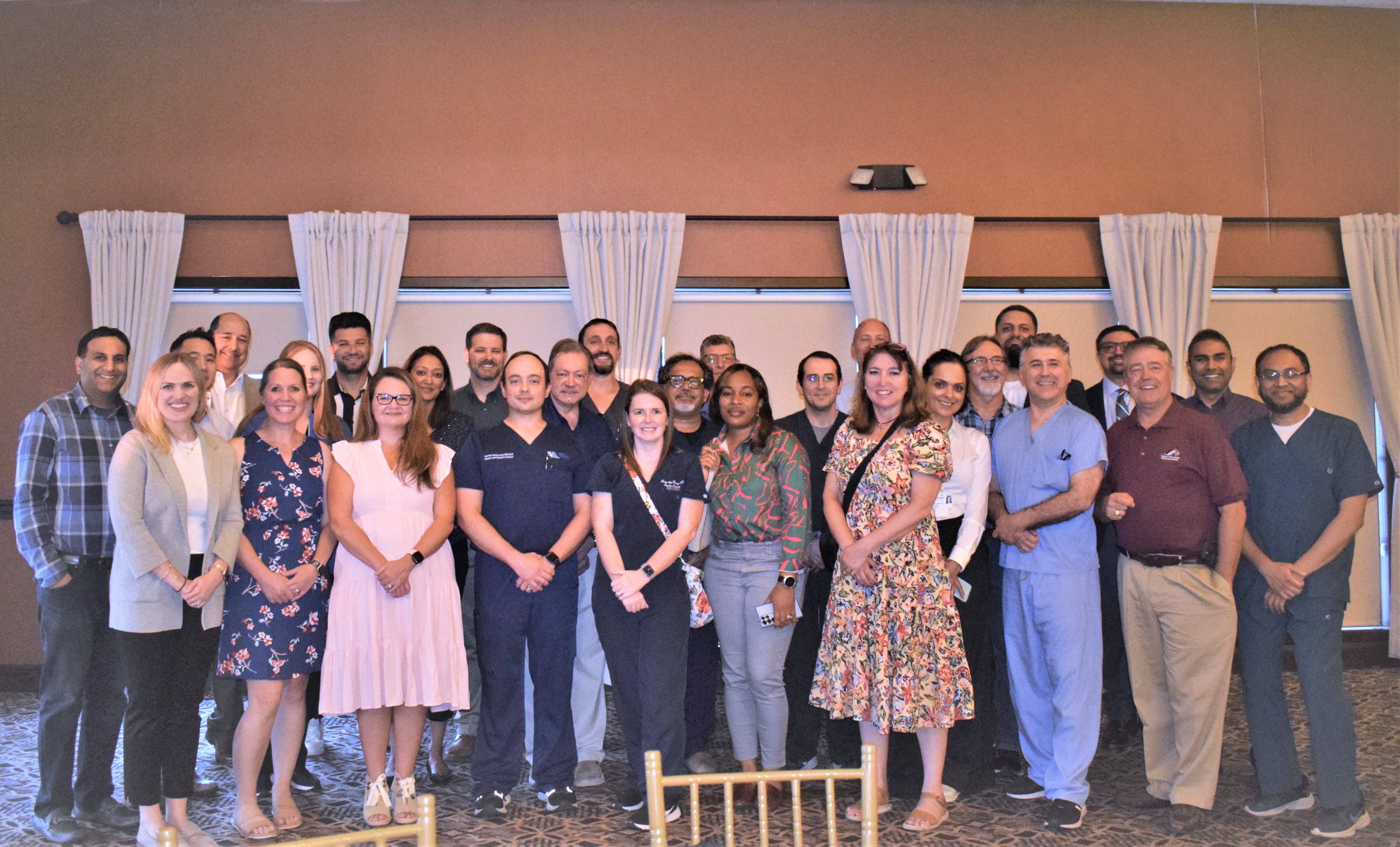 Recognizing outstanding physicians for excellence
At its annual general staff meeting, Methodist Mansfield honored several of the physicians on the hospital's medical staff.
The American Association of Kidney Patients awarded Samir Nangia, MD, FASN, CPE, nephrologist on the medical staff at Methodist Mansfield, with the National Medal of Excellence, which recognizes individuals who are committed to improving and extending the lives of patients through advocacy, research, technology, and quality-driven treatments.
Methodist Mansfield's clinical advancement and recognition council named Alan Taylor, MD, cardiologist on the hospital's medical staff, as the 2023 Physician of the Year for his dedication to excellence in his care of patients, families, nurses, and other staff members. He is known for going above and beyond every day to try to improve the health of the community and for volunteering his time to help with sports echocardiograms, STEMI training, cardiac education, and more.
Brigham Au, MD, and Connor Murphy, MD, orthopedic surgeons on the medical staff at Methodist Mansfield, were also recognized. They were named Physician All-Stars for their outstanding service and for volunteering their time to train firefighters in injury prevention and stress management.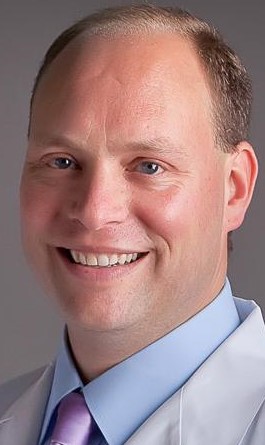 Paul Lansdowne, MD
Executive Medical Director
Physician Service Excellence
How prioritizing self-care translates to better patient care
Safety is everyone's responsibility. But what about
your
own safety and well-being?
As physicians, whether we take an oath or not, we are instilled with the aspiration to "do no harm." How far does that concept extend? Does it include not harming our own health? Our safety? Mental well-being? Who are we really helping if we forget to make our own health a priority?
Our Methodist Care Commitments are to care for patients, each other, and Methodist, as well as to care for ourselves. And while we may be primarily responsible for our own health, it stands to reason that we are all called to look after one another.
The World Medical Association's modern Physician's Pledge calls on us to "…attend to my own health, well-being, and abilities in order to provide care of the highest standard."
There are limits to what we can do, of course. We're only human. But as individuals we can learn to watch ourselves for symptoms of burnout or other issues. And we can watch for signs in our colleagues and offer support. There are resources within the system such as counselors and coaches, and other support available through the TMA and Tarrant County Medical Society.
Within our organization we can work to improve workflows, prevent physician burnout, and provide education and support. We can work to change the culture of medicine to make taking care of ourselves and each other a priority, not an afterthought.
Last, but not least, we need to change the culture of medicine so that taking care of ourselves and each other becomes an integral part of being a physician.
Medicine has perhaps a long way to go in terms of policy and regulations, but we can begin to change culture and habits right now. Not easy, but maybe priceless.
Epic Trainers are here, whenever there's a question — or suggestion
The Epic Training team is always available to answer your questions and provide guidance on how to use Epic more efficiently. We have a trainer posted at each campus to help with anything you may want to know about Epic, including taking your suggestions about how to improve clinical workflows in Epic for all physicians. Below you will find a few new ways that Epic can make your job easier.
MDMC
: 214-933-3742 (3-EPIC)
MRMC
: 469-204-3742 (4-EPIC)
MCMC
: 214-947-3742 (7-EPIC)
MMMC
: 682-242-3742 (2-EPIC)
MLMC
: 469-846-3742 (6-EPIC)
Reporting tool provides better data management
SlicerDicer, the Crosstab feature, is similar to a pivot table. It allows you to visualize the relationship between slices by using the multitude of measures you are familiar with today. It introduces the ability to group columns and slices data in two dimensions. Not only can you group slices across both columns and rows, but you can also see the "cross" between these data points.
Creating a better care plan with Medication Management Therapy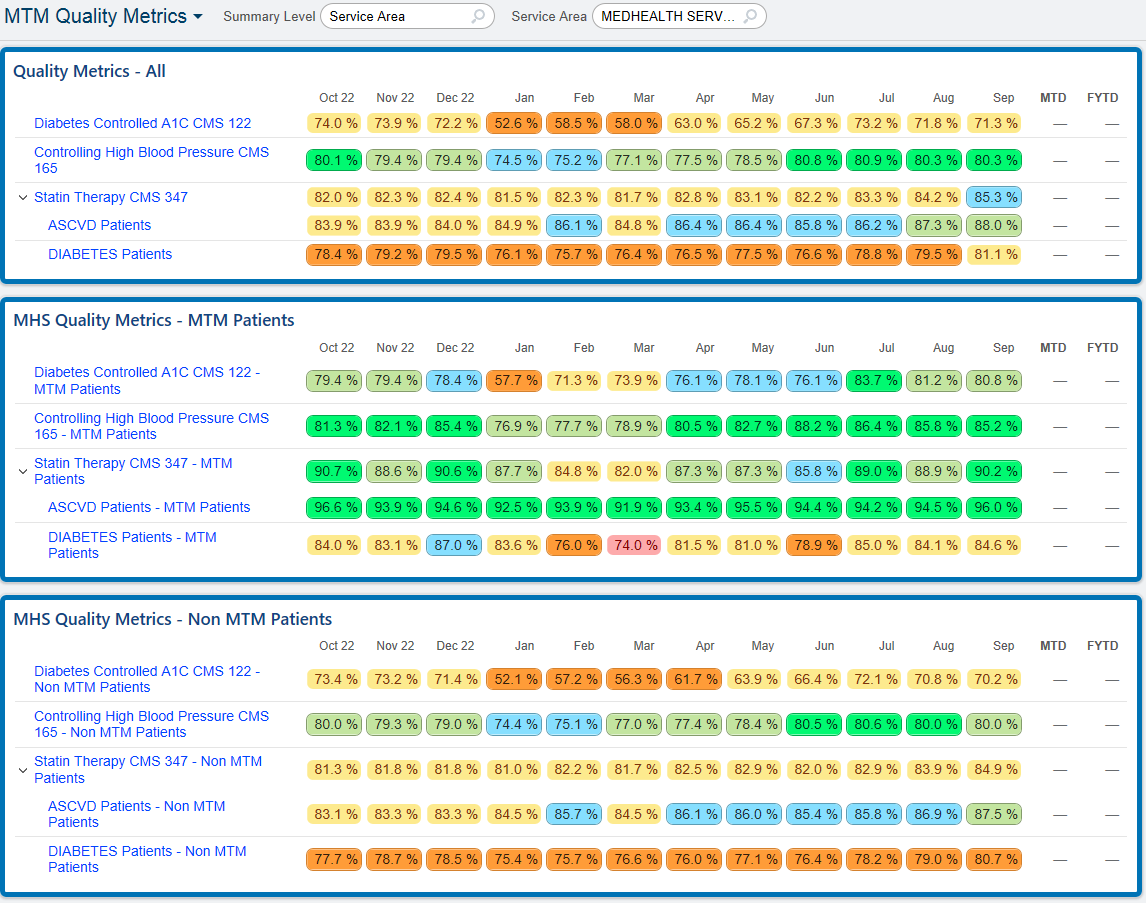 The Medication Management Therapy (MTM) dashboard was developed to address issues of medication adherence and misuse and create preventable adverse drug events among patients with Medicare drug coverage. The dashboard displays productivity benchmarks of patients with hypertension, diabetes, and those being treated with statin therapy. It highlights the volume of the MTM flags for each patient group and helps providers create a clearer picture about where to collaborate with care teams to enhance patient outcomes.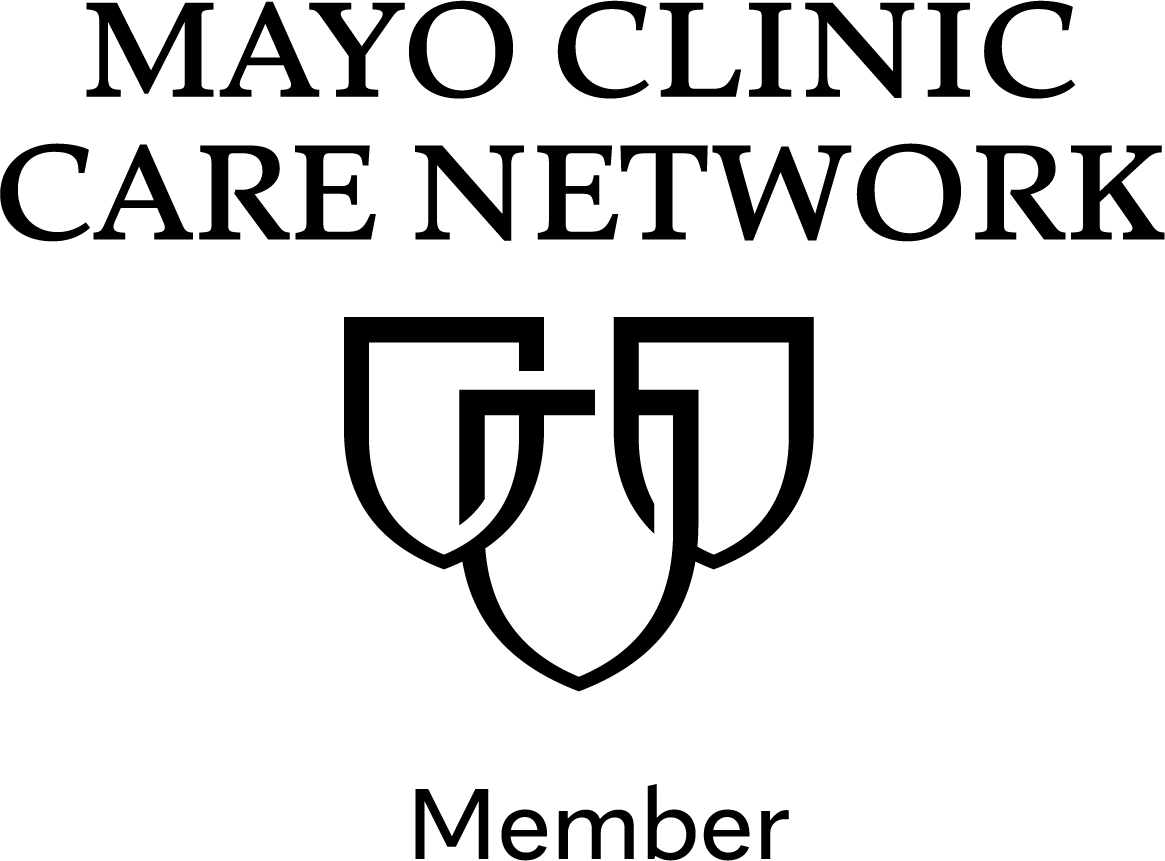 The Mayo Clinic Care Network is a unique collaboration that grants physicians on the medical staff at Methodist Health System special access to Mayo Clinic knowledge, expertise, and resources. Patients experience the confidence and convenience of being able to access world-leading medical expertise through their trusted local physician, close to home.
Mayo Clinic hosts a variety of educational conferences and events throughout the year:
If you have any questions, contact MCCNBrandAdmin@mayo.edu or email
Angela Vincent Michael
, System Director of Performance Improvement.